FAIRY TALE FEASTS: Notes from a book launch
          We launched CHINESE FAIRY TALE FEASTS at one of Toronto's few remaining independent bookstores (Ben McNally's) lat night, and all came away exhilarated.
          Through evite.com, we invited friends, many of whom we hadn't seen in a long time. This meant our event was as much a party for ourselves as it was a celebration for the book.
          We opted for "classy" (glass wine glasses!) and served red and white wine, Perrier, juice, soft and hard cheeses, a vegetable tray, grapes and garlic-stuffed olives. At the drinks table was a huge bowl of kettle chips.
          The venue was superb. Ben McNally is downtown central, and the spacious store lets people mingle and check out the well-curated book selection. We set our event to run from 6:00 p.m. to 8:00 p.m. so that people could drop by after work. Some folks brought their kids, who added fresh energy to the event. The kids loved the cheese!
          I didn't read from the new book, and gave instead two lines on how it differed from my other work. Then I said, "Here are three questions that kids often ask me at school and library talks," and answered them about CFTF. I spent the entire evening signing books; didn't even get a sip of wine. We were packed and out the door by 8:15 p.m.
          I have another book being released next year, so this was a bit of a test run. We recognized that CFTF is one of the more commercial of my books, so if we do another launch, we'll need a different strategy to attrack a crowd.
          It helped that our event was in early December, near the holidays.  Total outlay for a hundred guests? About $400.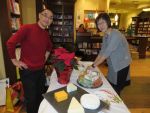 comments powered by

Disqus
<< Back to list page
-