FAIRY TALE FEASTS: Christmas Colors
          I grew up in Vancouver's Chinatown of the 1960s, attending the Chinese United Church even though, at home, the aunt and uncle who raised me weren't Christians. Going to church was like going to school; there were things to learn but without serious discipline.
          It didn't make sense to me that we celebrted Christmas. My aunt sent out Christmas cards and gift packages to her sisters. Friends and relatives sent toys to me and my brother. And our humble little house was decorated for the season, but only on the inside, as if we were keeping a secret to ourselves.
          Our Christmas tree was alive; it lived in a sturdy bucket all year in the garden. In December, it was brought inside and lavishly decorated. My aunt's tree trimmings were antiques, including dainty little lampshades mounted (on pins on up-pointing lightbulbs) to spin merriy from the bulb's heat. From the ceiling, we strung a line of outdoor lights that ran through the hallway, living room and kitchen. From those bulbs, we hung colorful Chinese paper  lanterns of different shapes. They lit up the house and drove all all the dark shadows that used to frighten me.
          Christmas dinner was a turkey, roasted at Chinatown's famous Pender Cafe. My aunt made mashed potatoes, Brussels sprouts and gravy, and opened tins of peas and cranberry sauced. It was the only time my uncle ate a western-style dinner at home. We invited my uncle's brother-in-law, one of Chinatown's "bachelors" who never brought his wife to Canada, who never went home to China. And if my aunt's brother was in town, he came too.
          On Boxing Day, we reverted to Chinese ways. The turkey carcass was made into broth and then congee.
          My uncle never ate the congee, which gamblers viewed as "beggar's food." Later in life, I realized that we decorated our house for the season because red and cheerfulness symbolized good luck for a gambling man.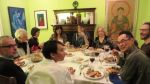 comments powered by

Disqus
<< Back to list page
-