RAILWAY NOVEL: A Murderous Time
          To relax, I like reading murder mysteries.  I recently enjoyed Stephen Legault's THE END OF THE LINE (Touchwood, 2011) for several reasons.
          It's set during the building of the Canadian Pacific Railway, in 1883, at one of the most dangerous sites of the route: the Kicking Horse Pass. The Chinese didn't work there but I absorbed the atmosphere of the time, and aspects of railway work, from Legault's research.
          A foreman has been murdered, and the Northwest Mounted Police sends Sergeant Durrant Wallace to investigate. An earlier gunfight had left Wallace with one leg and the need to learn to shoot left-handed. Wallace is keen to prove himself to frontier tough guys who disdain him.
          Set in deep winter, the story's ice hamper's Wallace's mobility. The cold adds a "Canadian" feel to the novel, as the Mountie tries to track down the killer and stop forces that threaten the railway's completion.
          The story is compelling because the motives for the murder arise from the railway itself. That is, this isn't about jealous lovers or a family scandal with the railway as background.
          Indeed, the novel shows many serious threats to the railway. Moonshine liquor endangers worker safety. A spy from a competing railway may be planning sabotage. There could be political interference in the massive purchase of explosives needed for the job.
          I'm glad that Legault's sequel for Wallace takes him to the North West Rebellion of 1885. The railway played a key role in that event too.
          A historian at heart, I welcome good fiction that brings the past to life. Certainly, END OF THE LINE provides back stories and personalities to the anonymous navvies who built the railway.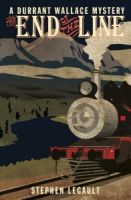 comments powered by

Disqus
<< Back to list page
-