A Song for Ba (2004)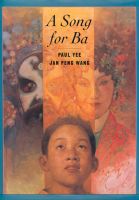 Wei Lim's father is a singer in the Chinese opera.  He usually plays the general, a role that involves mock fighting, tumbling and swordsmanship as well as singing in a deep bass voice.  But in Chinese opera, men used to sing both male and female roles.  Wei's beloved grandfather was also a famous star, in China, and he always played a princess or a maiden.  And Grandfather has secretly taught Wei Lim how to sing these parts.
Wei loves the spectacle and magic of the opera, but Ba doesn't see any future for opera singing in the New World, where the young Chinese prefer to attend picture shows.  Shrinking audiences put the opera company in financial danger.  Grandfather has returned to China so he cannot help.  Finally Wei comes to the rescue.
Reviews
An unusual immigrant story offers a fascinating glimpse into an unfamiliar art form.  The images are fully realised paintings of the city, the home, and the theater, rich in costume and characterization.
--Kirkus Review, April 2004
Although he [Yee] writes about the struggles of Asians adjusting to a new culture, the tension and healing that occur between Wei and Ba happen with fathers and sons everywhere.
--Quill and Quire, March 2004
The illustrations, done in oils on textured canvas, realistically depict the characters as they look offstage, as well as in their traditional costumes and makeup.  Double-page, soft-focused paintings, executed in muted colors, convey the mood of nostalgia and loss inherent in this backstage tale.
--School Library Journal, June 2004
<< Back to list page
-