Blood and Iron (2010)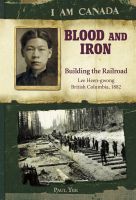 This Fictional journal takes readers on a day-by-day journey into one of Canada's great historic events: the building of the Canadian Pacific Railway through the mountains of British Columbia.
The time is 1882, and fourteen-year-old Heen-gwong is forced to accompany his father from China to Canada to join a work gang.  Heen isn't happy because he doesn't completely trust his father.  But as the workers face death and danger amid towering forests, granite mountains, and powerful river currents, Heen and his father learn to appreciate each other in new ways.
Blood and Iron: Building the Railway is part of Scholastic Canada's new series I AM CANADA.  The other title in this series released at this time is PRisoner of Dieppe: Word War II by Huge Brewster.  For more information, follow this link.
Early Reviews
"Yee…is able to balance the bleak facts of history with glimpses of humanity.  Neither of these books is an easy read—the authors don't shy away from the dark side of their sometimes difficult subjects. Both however, make history come alive through an expert mix of fact and fiction."
Jean Mills, Quill and Quire, September 2010, starred review.
Author's Note:
Every author's worst nightmare is a mistake that gets into print. For Blood and Iron, the error is on page 217. In the middle of the page, the line should read, "Between 1880 and1885, about seventeen thousand Chinese workers arrived in B.C."
During the writing, as I was moving text around, I accidentally dropped the number "1" from this tally, so 17,000 became 7000. I apologize for this error, which will be corrected in future editions of the book. (September 22, 2010)
<< Back to list page
-