Dead Man's Gold and Other Stories (2002)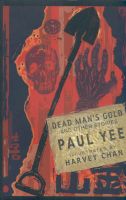 The characters in these stories are men and women, rich and poor, greedy and good, young and old -- all Chinese immigrants struggling to make new lives for themselves in North America. Yet wherever they go, they are followed by reminders of their home country -- the curse of a friend betrayed, the ghost of a faithful spouse, the spirit of a dead parent.
In the title story, two friends seek gold in the New World, but the precious metal brings riches to one man and a curse to the other. In "The Memory Stone," a beautiful young widow is betrayed when her fiancé goes to the New World and marries another woman. The young lovers in "Seawall Sightings," kept apart by racist immigration laws, have a tragic reunion. And in "Reunited," a spoiled teenaged boy leaves Hong Kong to live in North America, where he runs up against his father's Old World values and finds that his new life is not the glamorous existence he had been expecting.
Accompanied by the eerie, evocative illustrations of award-winning illustrator Harvey Chan, these tales provide young readers with a New World mythology of immigrant stories. See Groundwood Books' website at www.groundwoodbooks.com.
Reviews
"As with the best folk tales, these yarns contain strong stuff. Each one illuminates the human condition..."
--Toronto Star, 2 February 2003.
"Although emotionally tumultuous, the tales are not about victimhood but rather about courage, optimism and finding happiness however possible."
--Quill & Quire, July 2002.
"...the third tale of the collection, 'Sky High' is especially poignant with its graphic depiction of the devastation from clear-cutting on the BC coast."
--Children's Book News, Vol. 25, No. 3 (Fall 2002).
"A single, brooding black-and-white illustration by Harvey Chan introduces each of these heart-rending but gentle stories in this remarkable book."
--Victoria Times Colonist, 18 April 2004.
"Through superb story telling, Paul Yee has once again created a remarkable piece of literature."
--Resource Links Vol. 8 No. 2 (December 2002).
Honours
New York Public Library Best Books for the Teen Age, 2003.
Booklist Top Ten Historical Fiction Books of the Year, 2003.
Finalist, Golden Oak Adult Literacy Book Award of Ontario Library Association, 2004.
Short-listed, Sunburst Award, 2003 (for science fiction)
Honor Book, Kiriyama Prize, 2002 (books about Pacific Rim nations)
<< Back to list page
-