Fly Away (2001)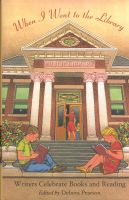 In the mid-19th century, gold was discovered in California, British Columbia, and Alaska. Suddenly, gold rushes were on! Miners from around the world rushed to the region to stake claims for the precious metal.
Fly Away is set in a gold-mining town up north, amid mountains and fierce winters. In this town, a man tells a deceiving lie and it is sent to China. In response, an unsuspecting woman travels across the Pacific. She is dismay, but graciously makes the best of her life. Trapped in the wilderness, she looks to the silvery moon for comfort. Then her hopes begin to fade. The man who transmitted the terrible lie finally confesses, but will this help?
In this story written for the collection When I Went to the Library, Paul Yee explores the power of words, in a time and place where books were few.
Fly Away is found in the book edited by Debora Pearson, When I Went to the Library, published by Groundwood Books in 2001. There are nine stories in the volume, written by some of Canada's most celebrated writers for children. (ISBN 0-88899-423-0)
Groundwood Books' website is at www.groundwoodbooks.com.
<< Back to list page
-