Jade Necklace (2002)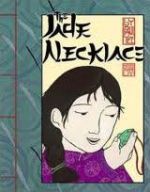 This story begins in the early 20th century in south China where Yenyee and her family live. One night, her fisherman father vanishes in a ferocious storm at sea. But it is not only her father that she loses that day. Yenyee also feels betrayed by the ocean, a friend she has trusted all her life, and betrayed by her family who then send her across the Pacific to the New World to be a servant.
In this poignant story, two worlds-China and North America-come together. Inspired by the artifacts in the Yip Sang collection held by the Vancouver Museum, author Paul Yee takes the reader on a magical voyage of love and forgiveness, of bravery and community.
Grace Lin grew up in upstate New York. She attended the Rhode Island School of Design and now lives in Los Angeles. She is the author and illustrator of Dim Sum for Everyone!, which Booklist called "graphically striking...a treat," Kite Flying, and The Ugly Vegetables.
The Jade Necklace is published in the United States by Crocodile Books. See their site at www.interlinkbooks.com.
In Canada, the publisher is Tradewind Books Ltd. at www.tradewindbooks.com.
Reviews
"While students of all backgrounds—girls in particular—may appreciate Yenyee's story for her stoic perseverance through many hardships, many immigrant children, and grandchildren of immigrants, will probably connect with it even more strongly, since so many immigrant families sacrifice much and leave behind so many loved ones."
--Education Digest May 2002.
"Yee's narrative takes flight alongside Lin's accomplished illustration..."
--Kirkus Reviews 15 May 2002
"Paul Yee narrates a touching story of loss, bravery, forgiveness, and friendship. Relationships—between generations, between humans, between cultures, and between humans and the natural world—are pivotal to this story, and shifts in these relationships mark turning points in Yenyee's life. Young readers will not only marvel at how ordinary lives can be touched by the extraordinary, but also gain insights into how young immigrant children deal with change, relationships, and cultural differences."
--Canadian Literature, Vol. 181 (Summer 2004)
"An eloquent blend of historical fiction, Chinese folklore and mythology, Yee's powerfully resonant tale is narrated in prose that seamlessly marries the formality of the storyteller's voice with the intimacy of a child's perspective."
--Quill & Quire (May 2002)
<< Back to list page
-