Jade in the Coal (2011)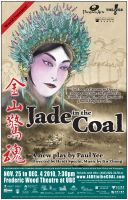 What's it about?
Sally Woo is a young wife living in Cumberland, a coal-mining town on Vancouver Island.  One day in August 1900, a Cantonese opera troupe arrives, causing Sally's many passions and secrets to rise up and collide.
These include:
(1) love and guilt over her late father and the death of her baby,
(2) disdain for her husband, when her true love returns to town, and
(3) her ambitions to become a western nurse. 
"You took on a very difficult challenge and made it work!   …the play is a success in many ways…"
--E. Johnson  2010/11/26
"…the play had me sitting up in my seat a good part of the time.  It was a historic moment."
--M. S. Y. Wong 2010/11/27
What did audiences at Frederic Wood Theatre, Nov  25 to Dec 4, 2010, see?
The gritty and dangerous life of underground coal miners,
East, West and  In-between worlds of  immigrants, opera artists, and westernized Chinese struggling with love,  duty and survivalo,
A rare nan-hua-dan  performance, where a male opera artist plays female stage roles.
The best of Cantonese opera, performed by high-level artists.  
Poignant appeals for justice from Canada's early immigrants.
"It is a delight—with its emphasis on Chinese Opera, ghosts, and family ties."  
--T. Wong, gunghaggisfatchoy.com 2010/11/28
"I hope at some point in the future it is restaged.  Kudos to Paul Yee and all the performers."      
--B. Charlton 2010-12-06 (from straight.com/.  Accessed 2010 12 08)
A professional production!
Veteran director Heidi Specht of Pangaea Arts engaged three artists from China's renowned Guangdong Cantonese Opera Academy First Troupe to play the traveling opera troupe members and to perform the opera imbedded in the play.
The play was developed over three and a half years, with significant input from two actors' workshops, two dramaturges and other theatre professionals. 
The production involved a mime director, fight consultant, choreographers, opera experts, and many translators and interpreters.
"I expected something pretty basic since it was opera. I instead got a stimulating exploration of the immigration experience…"
-- blogs.ubc.ca/.  Accessed 2010/12/08
What's special about Jade in the Coal?
An original play depicts life in early British Columbia.
Part of a broad-based initiative to commemorate Cumberland's unique history.
Performed in English and Cantonese, with sur-titles in two languages.
Six-piece orchestra played original music by composer/conductor Jin Zhang.
"…timeless issues of racial and gender discrimination, family relationships through love and death, and economic exploitation.    Yee…melds Chinese Opera seamlessly into the story in a way that showcases the talents of both the opera performers from Guangdong China, Singapore and Canada, and stars of the Vancouver Asian theatre scene."
--plankmagazine.com (accessed 2010/12/08)
It takes a village…
Pangaea Arts's major partners for Jade in the Coal included Theatre at UBC (Department of Theatre and Film), St. John's College of UBC, Telus, the Chinese Canadian Historical Society of B.C. and the Cumberland Museum and Archives.
Photo 40: Wilfred Aw Yeong as Crimson and Master Hoi Seng Ieong as Master Cloud, performing for Cumberland's coal miners at a teahouse in 1900. (photo credit: Michael Ford)
 Photo 65: B.C. Lee (as Wu Kwun) and Minh Ly (as Lew Chong), fighting for Sally, played by Diana Tso. (photo credit: Michael Ford)
<< Back to list page
-