The Secret Keepers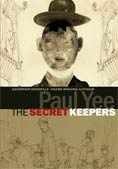 After the great earthquake and fire of 1906 destroys most of San Francisco's Chinatown, 15-year-old Jackson Leong is haunted by the ghost of his brother as well as the ghost of a mysterious young woman.
Excerpts from Selected Reviews
Set in the rich landscape of San Francisco's Chinatown in the early 1900s, the history and diverse culture of the Chinese-American population are vividly brought to life for the reader and are integral to the story. The characters are complex, believable, and multi layered and refuse to paint a stereotype of Chinese-Americans.  Resource Links, October 2011
Paul Yee has created an interesting world for his young adult readers. They are taken back in time to the early twentieth century and placed in the world of Chinatown with its nickelodeon, its opium den, its temples and ghosts. They meet shopkeepers, Jacksons' extended family and friends, and the strange man known as Temple Keeper whose task is to communicate with ghosts and hopefully settle their spirits so they no longer haunt the living. All of this comes to life thanks to Yee's detailed descriptions as well as the many conversations among the characters.CM Vol XVIII Number 10 November 2, 2011 http://www.umanitoba.ca/outreach/cm/vol18/no10/thesecretkeepers.html
The Secret Keepers is a treasure chest of excellent historical fiction. In the foreground, life-like characters wrestle with the same survival problems today's readers might face; in the background, an uncompromised, perfect portrayal of the past.Canadian Children's Booknews, Fall 2011 Volume 34 No. 4.
<< Back to list page
-